On Burundi, ICP Asks UN Of Speeches by Senate President, Nkurunziza Deadline

By Matthew Russell Lee

UNITED NATIONS, November 2 -- As killings in Burundi increase, on October 23 Inner City Press asked UN Ambassador Matthew Rycroft about the status of the draft Presidential Statement in the UN Security Council. He said there are differing views, but the UK is concerned about the "threat of genocide." Video here.

On November 2 Inner City Press asked UN Spokesman Stephane Dujarric about two speeches given in Burundi (the full text of one is below). Video here, UN transcript here:

Inner City Press: In Burundi, there was a speech by the President of the Senate [Révérien Ndikuriyo] saying that opposition neighborhoods may be razed [or raided. Some] people are calling it a genocide speech. There's also a speech by the President, saying anyone who doesn't disarm within the next five days will be treated as an enemy of the State. So, I'm wondering, not to overdo it, but things seem pretty serious. I wanted to know: what is the UN doing?

Spokesman: "It's clear that those in position of power, whether in Government or in the opposition, have a responsibility not to incite fear or hate of any kind. I think that's very important and that whatever security measures the Government takes fully comply with international law and respect for the right of people to freely assemble and protest."

After Burundi was elected to the UN Human Rights Council with 162 votes on October 28, on October 31 security forces in Burundi opened fire on a funeral procession in Buringa, killing many. These are the Burundian forces that UN Peacekeeping under Herve Ladsous keeps in service, offering waivers while the Government keeps the payments?

It is reported the Burundian authorities are accusing a medical NGO of offering treatment to insurgents, and are ready to attack. Frankly, the weak UN Security Council Presidential Statement which France belatedly proffered in the Council, then didn't even hold a question and answer stakeout about, is woefully insufficient, as is the UN Secretariat's response.

Now from Burundi this speech, of which we will run a Google Translate:

I told you that there is no Island in Burundi; you can not say "I hide behind the window and the police pass and then I throw a grenade at them," Do you think that when they take notes and pictures they do not see how these people carry? (...) Do you think it is not well recorded somewhere? As I told, you are the leaders of the District, will give them the message because you know each of you, and if you do not know the people you lead, you are good for nothing! Go warn them so that tomorrow there is no regret. I will say this clearly: intimez orders to your subordinates, say the heads of Groups of 10 households, in the case of guns, collect them; if it grenades, collect them too. (...) I do not know if you enter me! Hein !! Go to Mogadishu first, and you'll know what it is that the National Army. (...)

You will stay here in Bujumbura, you will not go into the bush, and if you try, we will not spare you; the bush is already undermined, reserved for something else; you will stay in homes. You will fall here in homes. We will solve everything right here in homes. (...) And we do not do the feelings when it's time to take action! And I told you clearly. I said the same to common people, and he loves me, citizens do not reproach me so far! If we start this is over. If you hear the signal with an instruction that it must end, emotions and tears have no place! It's like that, you are the Heads of Districts, go talk to the residents of your neighborhood, if someone says "I accept to die", then you say to those who will execute the mission "on this part, we must pulverize "(ie ed exterminate", they are to die for! I order you, come on! You are the Heads of Districts, and you have under your command the heads of Groups of 10 households. Go to this message clearly! (...).

I said something in passing that it is even possible to have more opportunities to get the parcels. Yes, it is possible to get some plots. I do not know if you grasp what I mean! If you really want to have plots (note "work" and) you will have! Go forward the message, and do not say "if they still derive" What are you going to change if they shoot? I know how guerrilla works because I was part of a guerrilla. (...) They come out of the houses and we measure ourselves with them on the heights of the mountains and into the bush. Go to Cibitoke in Bukinanyana! I went there two days later (note saying the attacks of rebel groups), were fired at them even hidden under rocks. (...) You have elected summers, people trust you, tell them the truth! Do not play the game "never mind, we launched a grenade at a police officer" and you start to sing (celebrate). And the message that I give you is light. Go with this message and pass it on!

There are people who induce others into error, saying, "go ahead, all is well, there is no problem, we will join you" and suddenly you see 100 people killed in a short period time Cibitoke, more than one hundred were killed within a period of time. In just two days, more than 100 people on the ground! 70 guns seized! Here.

Mutakura and Cibitoke is what area? What is the length of Cibitoke District? (...) How many meters separate the 1 st and last Avenue? Will measure! Do not behave like children of the city! NO! Do not behave as citizens. Will measure the number of meters (length) between the various Avenues of Cibitoke area! The District has Mutakura how many Avenues? I tell you sincerely, go warn them so they do not come to say "if I had known."

I understand you to say that we know Mogadishu, military aircraft jumped directly to the battlefield, and advanced pulling immediately. And here, now Mogadishu is secure! Let no man therefore mistaken in believing specialist. Parachuter is not a problem. Even if you go into the forest of Kibira parachutists shall go the same way (note that Mogadishu) and only one of you will survive and this is one that will make the report. Even in houses (note in Quarters) it will be poor. (...) If it is decided that a serious operation should be done in a given place, after being thoroughly prepared, it will be perfectly realized. No one will go to Muyinga, Kirundo nobody will go. No! Everything will be resolved even there (in neighborhoods). There is one thing you do not understand, perhaps, when he says (note President Nkurunziza with his maxim "Who will light the fire, it will burn the home itself!) That one who dares, everything will end with him is that if you burn tires, it is yourself that will suck the suffocating smoke; if you start firing bullets, all will end at home. If you sow disorder in the District, it is in your District that all will end and any attempt will be destroyed thereby! (...) The day will be given permission to work and that the current restraint would come to an end, where will you go? If we were to say, "now, work! "Proceed with the kora operation (work)! In the event that either you that we intimate the order to take action, as you continue to float you and to be around these "people", say months how you could do it!

Have you learned so far that an order had been given to work? Have you learned? Wait! The day we say work, you'll see the difference! The police is currently hiding to shelter grenades, but you will see the difference on the day they receive the message to work. (...) The day they receive the order to truly work on behalf of the country and for the safety of Neighbourhoods, they will operate seriously! It will not be like now when we try to be lenient including pulling arms for ... ..huuuummm ... .When they are ordered to work seriously, they will work.

It is not yet ordered them to work. Currently, we are still light (...) The day we let go the people and that the order of work will be given to you station! Even hidden under the bed, you will be evicted. The Day they will be told, "Work! ", too bad for you. I know that even the police are not happy, they say "that lets us do the work as we have learned, we are tired of making us throw grenades from behind!" Now they ask we give them permission to work to put into practice what they have learned and these stories will end.

In areas of peacekeeping missions, they refused to keeping the peace forces to shoot, but after we gave them the order to fire. Initially, we had shot and we lost men, but afterwards, they were told to "take action" and it was finished in zero seconds. Simply give permission to work, the fire draws fire and continue.

With us in the savannas of Kumoso (Ed South East of Burundi in the provinces of Makamba, Rutana and Ruyigi), when there are bush fires extinguish and protect areas not yet reached, we burned some not orientions reached yet and the fire in the direction of the first two fires met in the middle and it was their end! This is how we do in the Kumoso during the dry season. It does not extinguish bush fires with dry banana leaves or with leaves of the trees! NO! If you bring the leaves of trees, they burn before your eyes and there is even the risk that you will leave life. When you see a bushfire surprise you, you give yourself away, you light a second fire, you oriented toward the first and they meet in the middle. That's it.

That is why we often pay visits to people. Populations within the country are awakened. That is why they say that anyone who is not from their local needs. We can not accept to be served a menu which we do not know how it was prepared, we do not eat a food which we know how to prepare. But you, because of the culture and mentality of the city, you accept everything! This then poses a problem.

You did it is said that only the military or police are doing what they are told? We still use the sweetness! (...) Do you think the government will accept its police continue to be killed so that he could allow them to work! At one point he will say NO and order will be given to complete the task. (...) When giving the order to take action, tear gas are no longer a tool. When we realize that there is need to work in a given place and a decision is made to take action, it does not take itself with tear gas. Tear gas is used only when citizens run into the street to stop them ...... but when we say that there is a real mission to carry out somewhere when you have to work working.

It begins by identifying the place of performance of the work. We do not go to work where there is no sufficient volume of work; we go where there is work and I know that in such cases, everything works and successfully.

Then the one who suggested that working with Kamenge and Kinama, that's a point but I think it is not necessary. Is it worth telling residents to get out of these neighborhoods? What would eventually be your role? Should I use whistles? Are you not the Heads of the District? It is not necessary to extract the whole area of ??the world. You do not point the objects, you control people and no person must live in the city without being identified, given that there are administrative structures to the base with Heads of Groups of 10 households. You should not even wait until there is a transaction (note the Kora operation), you should instead, on your own initiative, saying: "In this place there are elements that 1,2,3,4,5 are not in order "and you will be sending you a message by phone to advise those who are to save and you call the police for taking action and you will return afterwards. Do-not I even said there way to be rewarded with plots? Eh ... it's not a game ... I am like that ... do not look at me! I'm used to the war.

https://soundcloud.com/journ-burundi/reverien-ndikuriyo-le-pdt-du-senat-illegitime-promet-de-raser-des-quartiers-de-la-capitale

On October 28, Inner City Press asked UN spokesman Stephane Dujarric about another threat. From the UN transcript:

Inner City Press: this is a tweet from the official account of Pierre Nkurunziza, President of Burundi: "No one living abroad should consider himself superior to those who stayed in Burundi since most of them have left their families here." So people see this as an open-source threat to retaliate against the families of those who have fled the country. And I'm wondering…

Spokesman: I haven't seen the tweet. I shall look at it.

Inner City Press showed it to him on his way out. Earlier on October 28, Burundi got 162 votes for the UN Human Rights Council, less than the other also unopposed candidates, but still enough to get on the Council. The UN Security Council had just issued a Presidential Statement, here, which gave weight to the Museveni "mediation," and which the US later "welcomed." Usually it's the penholder (France) which speaks. But not here, not on Burundi (see Ladsous, below).

On October 27, the UN said Secretary General Ban Ki-moon called the AU (below); Inner City Press asked Ban's spokesman Stephane Dujarric is any closer to naming the envoy he called "immanent" months ago. Dujarric said he should have used another word.

Inner City Press asked Dujarric of reports that Burundian police in the UN's MINUSCA mission in Bangui have not received benefits in months, and of a letter sent to Ban and Herve Ladsous about the Burundian troops. Dujarric said he would check on both. Here is the full text of the UN's read-out:

"Today, the Secretary-General called H.E. Dr. Nkosazana Dlamini Zuma, Chairperson of the African Union Commission, to discuss the situation in Burundi.

The Secretary-General welcomed the decision made by the African Union's Peace and Security Council on 17 October to address the political impasse and deteriorating security situation in Burundi. He noted that such comprehensive and resolute action could offer Burundi the opportunity to put an end to the continuing violence and find a consensual political solution on the way forward.

The Secretary-General assured the Chairperson of the African Union Commission that the United Nations stands ready to provide any support necessary to advance the implementation of the measures agreed upon by the members of the African Union Peace and Security Council. "

On October 28 Burundi is poised for election to the UN Human Rights Council, as one of five African Group candidates for five seats. Meanwhile on October 26, the European Union adopted the letter to President Pierre Nkurunziza that Inner City Press asked the UN about last week, here.

Can EU members on October 28 not vote against Burundi's "Human Rights" Council candidacy at this time? And other Western NGOs coming to the UN early this week to set forth their positions, will they just phone it in with regard to Burundi? Watch this site.

Also on October 23, Inner City Press asked UN Secretary General Ban Ki-moon:

Inner City Press: I wanted to ask on Burundi, just this morning the UK Ambassador said that the UK is concerned of a threat of genocide, is the word that he used, so I'm wondering under Rights Up Front what are your thoughts about Burundi and what the UN or the Secretariat can do.

SG Ban: "On this genocide issues, I hope there should be some creative investigations by the relevant experts and there should be, first of all, a clear understanding and investigations. And if the conclusion is that there were such kind of genocide issues, then there should be accountability, justice must prevail and perpetrators must be brought to justice."

But what is the UN Secretariat DOING about it?

On October 22, Inner City Press asked Ban's deputy spokesperson Haq:

Inner City Press: I wanted to ask you a question about Burundi. The EU is preparing a letter to invite the Burundian parties to Brussels to have a discussion about diffusing the situation. And I wanted to know, not just what does the UN think about it, but is there any UN role in this? And, if not, what does it say about the UN sort of action on Burundi? It's one thing to defer maybe to the AU but this is the UE. What is the UN doing about this?

Deputy Spokesman: We are following up with all the various initiatives by regional parties including the African Union and the European Union and, of course, our Envoy dealing with the Great Lakes Region has been appraised of this so we are continuing to follow-up.

ICP: But, I mean, is the EU really, can you… it is a regional organization but is it a regional organization with respect to Burundi?

Deputy Spokesman: That is question for the European Union, not for me.

ICP: Have you been contacted I guess is my question?

Deputy Spokesman: But regarding this, we have been in touch with a variety of regional bodies including through the office of the Special Envoy for the Great Lakes Region but also through our Department of Political Affairs and will keep appraised of all the various actors in this.

Back on October 20, Ban's deputy spokesperson Haq cited back to a written statement by Secretary General Ban Ki-moon more than a week ago; he said generally that MONUSCO like all UN mission affirms the right of freedom of the press. Really?

Later on October 20 after Inner City Press asked UN rapporteur on torture Juan Mendez about Guantanamo and US prisons, in the hall after waiting through a number of questions in Spanish Inner City Press asked him if he'd received complaints about, or acted on, Burundi. No, he said, not yet. Really?

Update: later on October 20 it was announced that the UN's Jeff Feltman will briefing the Security Council behind closed doors on October 21. But what outcome with the Council's penholder, France, even ask for?

On October 16 Inner City Press asked Haq if the UN thinks the government can investigate itself. This was based on UN Secretary General Ban Ki-moon's October 15 statement that

"The Secretary-General condemns the killing of nine civilians and two police officers in Bujumbura on 13 October... He urges Burundian authorities to undertake a rigorous and prompt investigation into the circumstances and motives behind these despicable crimes in order to ensure that their perpetrators are brought to justice."

So can the Nkurunziza government investigate itself (as the UN purports to be investigating or "auditing" itself in the wake of corruption revelation about former Presidnet of the General Assembly John Ashe among others)? Inner City Press asked this question (video here) as well as following up on this, from October 13:

Inner City Press: the Burundi question is one that maybe you can check with DPKO [Department of Peacekeeping Operations]. Burundian human rights activists say that an officer, Jerome Ntibogora, N-t-i-b-o-g-o-r-a, who was accused of being involved in killing people in a… in a hospital after they fled from the Government, has now been deployed to MINUSMA [United Nations Multidimensional Integrated Stabilization Mission] in Mali. So I wanted to…

Spokesman Dujarric: Let's see what we can find out.

Dujarric did not come back with an answer, by this deputy when Inner City Pres asked again on October 16 said he, Ntibogora is not being deployed. We'll see - watch this site.

Amid crackdowns in Burundi by security forces, and allegations of sexual abuse by Burundian peacekeepers serving under the UN flag, UN Peacekeeping chief Herve Ladsous on October 1 held a meeting with Burundian Vice President Joseph Butore.

Inner City Press has already tweeted a photograph of the meeting, but has now received the complete UN read-out, which raises more questions about Ladsous.

On the crackdown, Ladsous assured Butore that he has a "pragmatic approach" and is of no mind to question what happens in any country, does not involve himself in "domestic affairs."

On the sexual abuse allegations, Ladsous spoke only in platitudes, without requiring or even inquiring into any actions taken by the Burundians on the alleged abuse.

Even though Burundi was already given a "grace period" to bring appropriate equipment into the Central African Republic for the MINUSCA mission, they have not done so. In the meeting, according to the read-out, Butore "acknowledged" the substandard equipment.

Butore requested, and Ladsous for now granted, yet another extension to bring the requirement equipment -- until March 2016 for light equipment, and to June 2016 for heavy equipment.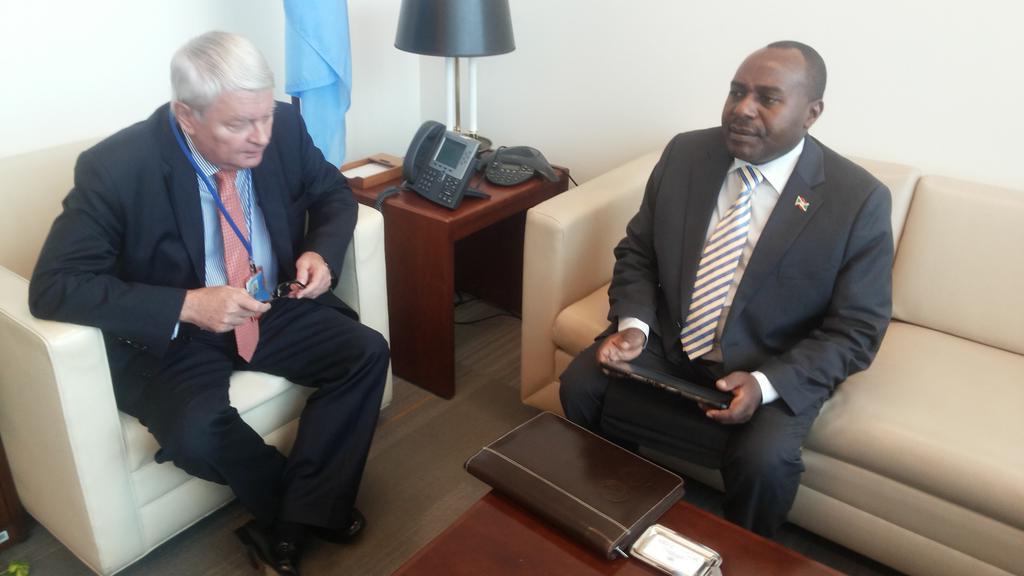 Is this safe - even for the Burundian soldiers at issue? While speaking through press releases, Ladsous' spokespeople, far from answering questions, go so far as to direct UNTV boom microphone operators to avoid Inner City Press, even preventing the Press from asking any questions to Mali's Foreign Minister Abdulaye Diop last week. We'll have more on all this.

* * *
These reports are usually also available through Google News and on Lexis-Nexis.
Click here for Sept 26, 2011 New Yorker on Inner City Press at UN

Click for BloggingHeads.tv re Libya, Sri Lanka, UN Corruption

Feedback: Editorial [at] innercitypress.com
UN Office: S-303, UN, NY 10017 USA

Reporter's mobile (and weekends): 718-716-3540
Other, earlier Inner City Press are listed here, and some are available in the ProQuest service, and now on Lexis-Nexis.
Copyright 2006-2015 Inner City Press, Inc. To request reprint or other permission, e-contact Editorial [at] innercitypress.com