On Burundi France, Sued for Genocide, Refuses Q on Ladsous Using Troops in CAR

By Matthew Russell Lee

UNITED NATIONS, November 10 -- As killings in Burundi have increased, a November 9 UN Security Council meeting was belated announced, from Paris, on Friday November 6. The delay on Burundi, Inner City Press has been informed by well-placed UN sources, has been due to France, the Council's penholder. Even other Security Council members have questioned France's delay, or linked it to France's role in the Great Lakes, most troublingly in 1994.

While the November 9 meeting was still ongoing, the UN announced that French Permanent Representative Francois Delattre would address the press in ten minutes. But when it happened it was the French Mission's deputy Alexis Lamek, moderated by the Mission's spokesman Thierry Caboche.

After bragging about a draft resolution French belatedly circulated -- which would be repeated by France's political coordinator Philippe Bertoux -- Lamek and his spokesperson Caboche twice refused to take a Press question about UN Peacekeeping still using the same Bururdian forces accused of the abuses. Vine here. Video, with UK constrast, here.

Now, for context, beyond Herve Ladsous' role in 1994, we reported on the lawsuit filed in France by the NGO Survie, which summarized it here:

"Survie lodged a complaint against unknown persons ('plainte contre X') with the Prosecutor of the Tribunal de Grande Instance of Paris, for complicity in genocide and complicity in crimes against humanity. This complaint targets French political and military officials who were responsible, in the early 1990s, for providing assistance to the regime that prepared and then committed genocide against Rwandans designated as Tutsis in 1994, especially through delivery of arms and ammunition before and during the genocide.

[L A D S O U S]

"The complaint focuses on two areas : On the one hand, every French delivery of arms, ammunition or other type of military equipment to the pre-genocidal Rwandan regime in early 1994, even though at that time the regime had already perpetrated massacres. These are facts which, in our considered opinion, constitute complicity in crimes against humanity. For example, on 21 January 1994, ammunition was delivered to the Forces armées rwandaises / Rwandan Armed Forces (FAR) – the national army of Rwanda – from the city of Chateauroux in France.

"On the other hand, every French delivery of arms, ammunition or other type of military equipment to the Rwandan regime while it was committing genocide. These are facts which, in our considered opinion, constitute complicity in genocide. For example, on 9 April 1994, military ammunition was unloaded directly to members of the FAR (Rwandan Armed Forces) from the first military planes of the French operation Amaryllis that landed in Rwanda. According to law, a person is an accomplice to genocide if he or she has provided assistance to the perpetrators of the crime while knowing that they will perpetrate it, even if he or she does not share in the genocidal intent.

"Furthermore, President Francois Hollande committed himself this year to providing transparency with regard to the involvement of France in Rwanda, through the declassification of documents. Today, many documents are still under the seal of secrecy."

We'll have more on this.

On November 9 the French mission spokesperson Caboche, after calling on Reuters, called on Agence France Presse. Inner City Press said, please answer why Herve Ladsous - the fourth French head of UN Peacekeeping in a row - uses Burundian troops in Central African Republic, giving them extensions to bring the right equipment (the government, sources say, takes the money.)

"Ask him," Lamek said off camera, referring to Ladsous who repeatedly refuses Press questions on this (and on covering up French Sangaris forces rapes in CAR.) Inner City Press said, What a joke; the Voice of America scribe who tried to use UNCA, the UN's Censorship Alliance, to get Inner City Press thrown out of the UN made a comment, "Someone didn't take their medication." ADA, indeed.

Moments later when Inner City Press asked UK Deputy Ambassador Peter Wilson if the UN should keep using Burundian troops or vet them, Wilson called this a "big issues" that "needs to be looked at." Audio including Elements to the Press, here. Fast transcript by InnerCityPro.com, here:

Inner City Press asked, the UN uses Burundian peacekeepers in CAR. Is there, or could there be, some review of that?

UK Deputy Peter Wilson: "on peacekeepers, I think this is a big issue, and I think it's something certainly that needs to be looked at in a wider context of what response we take to the events in Burundi right now. I wouldn't urge precipitate action on that, but I think it's one of the issues that we need collectively to consider."

Strange then, that the penholding on Burundi and controller of UN Peacekeeping wouldn't even take the questions. The history of the Great Lakes runs deep. More recently, Inner City Press is informed is belated discussion among Security Council Permanent Five members that Ladsous is a liability, should or can he even be allowed to stay on to the end of Ban Ki-moon's term. We'll have more on this.

On the way into the Security Council, Inner City Press asked both UK Ambassador Matthew Rycroft and French Deputy Ambassador Alexis Lamek about the UN staffer killed in Bujumbura, along with others, over the weekend: would there be a Press Statement. Lamek said there'll be more. Video here.

From the UK transcript:

Inner City Press: A UN staffer was killed over the weekend. Do you expect any outcome from this meeting? A press statement or something to mark that?

Amb. Rycroft: I'm sure that will come up in some way and we're ready to work with our SC colleagues on whatever product we find most useful.

At the November 9 meeting, Burundi's Foreign Minister Nyamitwe droned on by video by Bujumbura, even as Security Council President Matthew Rycroft asked him to bring it to an end. He continued speaking as the other speakers on video -- Prince Zeid, Adama Dieng, Swiss Ambassador Lauber -- squirmed, seeming like the audience to wonder if Rycroft would just cut his mic (he didn't.)

Inner City Press immediately put online that speech, and that of Uganda's Ambassador Nduhuura and the African Union's Tete Antonio, here.

From other senior UN sources the Press was told on November 6 that Secretary General Ban Ki-moon would speak on Burundi inside the Council, along with Prince Zeid and the chair of the UN Peacebuilding Confirmation by video from Burundi. Ban Ki-moon canceled, to go to Saudi Arabia.

His replacement Jeffrey Feltman said "in the coming days the Secretary General will announce the appointment of a Special Adviser who will lead and coordinate UN efforts in support Burundi. The Special Adviser will work closely with the AU, EAC and other partners to prevent further escalation of the conflict and build peace in Burundi."

But when, mid-meeting, the UN announced Ban has named Jamal Benomar Special Adviser, the announcement did not even use the word "Burundi." Such is the power, for now, of Pierre Nkurunziza.

As the closed door meeting continued, the UN said that it would be UK Deputy Peter Wilson would would address the press afterward. Watch this site.

On November 7 came reports of killings, including it was said a UN system staff member. This has been confirmed by UNDP - but only the local Buurndi office. Still from the UN, nothing. The Security Council issued a Press Statement on November 7... about Libya.

Burundian journalist Blaise Célestin Ndihokubwayo has been arrested and sent to the Service national de renseignement (SNR). Where is UNESCO and its director, who wants to be the next UN Secretary General?

On October 23 Inner City Press asked UN Ambassador Matthew Rycroft about the status of the draft Presidential Statement in the UN Security Council. He said there are differing views, but the UK is concerned about the "threat of genocide." Video here. On November 3, Inner City Press again put a Burundi questions to Rycroft, now President of the Security Council for November. Video here, story here.

The son of human rights defender Pierre Claver Mbonimpa has reportedly been murdered, after Pierre Nkurunziza tweeted that "No one living abroad should consider himself superior to those who stayed in Burundi, since most of them have left their families here."

On November 6, a belated Security Council meeting on Burundi was announced -- from Paris, by French foreign ministry spokesperson Romain Nadal. Why the delay? Why announced in that way?

Later on November 6, UN Secretary General Ban Ki-moon (whose spokesman could not tell Inner City Press if Ban will have any representative in the Security Council's meeting on Monday) put out this statement.

Inner City Press at the November 6 UN noon briefing asked how these concerns were consistent with Ban deferring to the Ugandan Defense Minister (for the EAC, Ban's spokesman pointed out), and asked if Ban will even have a representative briefing the UN Security Council on Monday. UNclear. Video here.

The US' Tom Perriello, filmed at the State Department, noted the weekend deadline. But why then was the UN Security Council meeting left until after the deadline?

US Ambassador Samantha Power put out this statement, here.

Behind the continued killing, here's an issue: Inner City Press is informed that a number of Burundian civil society leaders and journalists have improperly been flagged to Interpol as if their passports had been stolen. This has made it impossible, for example, for Vital Nshimirimana to travel to a speak about the crisis in Burundi at a conference in (Ban Ki-moon's native) South Korea.

Inner City Press on November 4 asked the UN Office of the High Commissioner for Human Rights' Ivan Simonovic and UN spokesman Stephane Dujarric about this. Interpol often brags at the UN how it is useful on the issue of foreign fighters. It's Secretary General Jurgen Stock spoke before the UN Security Council on May 29, 2015. But what about when Interpol is misused by a government like Pierre Nkurunziza? What do it, the Security Council and its members do that? Watch this site.

On November 2 Inner City Press asked UN Spokesman Stephane Dujarric about two speeches given in Burundi (the full text of one is below). Video here, UN transcript here:

Inner City Press: In Burundi, there was a speech by the President of the Senate [Révérien Ndikuriyo] saying that opposition neighborhoods may be razed [or raided. Some] people are calling it a genocide speech. There's also a speech by the President, saying anyone who doesn't disarm within the next five days will be treated as an enemy of the State. So, I'm wondering, not to overdo it, but things seem pretty serious. I wanted to know: what is the UN doing?

Spokesman: "It's clear that those in position of power, whether in Government or in the opposition, have a responsibility not to incite fear or hate of any kind. I think that's very important and that whatever security measures the Government takes fully comply with international law and respect for the right of people to freely assemble and protest."

After Burundi was elected to the UN Human Rights Council with 162 votes on October 28, on October 31 security forces in Burundi opened fire on a funeral procession in Buringa, killing many. These are the Burundian forces that UN Peacekeeping under Herve Ladsous keeps in service, offering waivers while the Government keeps the payments?

It is reported the Burundian authorities are accusing a medical NGO of offering treatment to insurgents, and are ready to attack. Frankly, the weak UN Security Council Presidential Statement which France belatedly proffered in the Council, then didn't even hold a question and answer stakeout about, is woefully insufficient, as is the UN Secretariat's response.

Now from Burundi this speech

https://soundcloud.com/journ-burundi/reverien-ndikuriyo-le-pdt-du-senat-illegitime-promet-de-raser-des-quartiers-de-la-capitale

On October 28, Inner City Press asked UN spokesman Stephane Dujarric about another threat. From the UN transcript:

Inner City Press: this is a tweet from the official account of Pierre Nkurunziza, President of Burundi: "No one living abroad should consider himself superior to those who stayed in Burundi since most of them have left their families here." So people see this as an open-source threat to retaliate against the families of those who have fled the country. And I'm wondering…

Spokesman: I haven't seen the tweet. I shall look at it.

Inner City Press showed it to him on his way out. Earlier on October 28, Burundi got 162 votes for the UN Human Rights Council, less than the other also unopposed candidates, but still enough to get on the Council. The UN Security Council had just issued a Presidential Statement, here, which gave weight to the Museveni "mediation," and which the US later "welcomed." Usually it's the penholder (France) which speaks. But not here, not on Burundi (see Ladsous, below).

On October 27, the UN said Secretary General Ban Ki-moon called the AU (below); Inner City Press asked Ban's spokesman Stephane Dujarric is any closer to naming the envoy he called "immanent" months ago. Dujarric said he should have used another word.

Inner City Press asked Dujarric of reports that Burundian police in the UN's MINUSCA mission in Bangui have not received benefits in months, and of a letter sent to Ban and Herve Ladsous about the Burundian troops. Dujarric said he would check on both. Here is the full text of the UN's read-out:

"Today, the Secretary-General called H.E. Dr. Nkosazana Dlamini Zuma, Chairperson of the African Union Commission, to discuss the situation in Burundi.

The Secretary-General welcomed the decision made by the African Union's Peace and Security Council on 17 October to address the political impasse and deteriorating security situation in Burundi. He noted that such comprehensive and resolute action could offer Burundi the opportunity to put an end to the continuing violence and find a consensual political solution on the way forward.

The Secretary-General assured the Chairperson of the African Union Commission that the United Nations stands ready to provide any support necessary to advance the implementation of the measures agreed upon by the members of the African Union Peace and Security Council. "

On October 28 Burundi is poised for election to the UN Human Rights Council, as one of five African Group candidates for five seats. Meanwhile on October 26, the European Union adopted the letter to President Pierre Nkurunziza that Inner City Press asked the UN about last week, here.

Can EU members on October 28 not vote against Burundi's "Human Rights" Council candidacy at this time? And other Western NGOs coming to the UN early this week to set forth their positions, will they just phone it in with regard to Burundi? Watch this site.

Also on October 23, Inner City Press asked UN Secretary General Ban Ki-moon:

Inner City Press: I wanted to ask on Burundi, just this morning the UK Ambassador said that the UK is concerned of a threat of genocide, is the word that he used, so I'm wondering under Rights Up Front what are your thoughts about Burundi and what the UN or the Secretariat can do.

SG Ban: "On this genocide issues, I hope there should be some creative investigations by the relevant experts and there should be, first of all, a clear understanding and investigations. And if the conclusion is that there were such kind of genocide issues, then there should be accountability, justice must prevail and perpetrators must be brought to justice."

But what is the UN Secretariat DOING about it?

On October 22, Inner City Press asked Ban's deputy spokesperson Haq:

Inner City Press: I wanted to ask you a question about Burundi. The EU is preparing a letter to invite the Burundian parties to Brussels to have a discussion about diffusing the situation. And I wanted to know, not just what does the UN think about it, but is there any UN role in this? And, if not, what does it say about the UN sort of action on Burundi? It's one thing to defer maybe to the AU but this is the UE. What is the UN doing about this?

Deputy Spokesman: We are following up with all the various initiatives by regional parties including the African Union and the European Union and, of course, our Envoy dealing with the Great Lakes Region has been appraised of this so we are continuing to follow-up.

ICP: But, I mean, is the EU really, can you… it is a regional organization but is it a regional organization with respect to Burundi?

Deputy Spokesman: That is question for the European Union, not for me.

ICP: Have you been contacted I guess is my question?

Deputy Spokesman: But regarding this, we have been in touch with a variety of regional bodies including through the office of the Special Envoy for the Great Lakes Region but also through our Department of Political Affairs and will keep appraised of all the various actors in this.

Back on October 20, Ban's deputy spokesperson Haq cited back to a written statement by Secretary General Ban Ki-moon more than a week ago; he said generally that MONUSCO like all UN mission affirms the right of freedom of the press. Really?

Later on October 20 after Inner City Press asked UN rapporteur on torture Juan Mendez about Guantanamo and US prisons, in the hall after waiting through a number of questions in Spanish Inner City Press asked him if he'd received complaints about, or acted on, Burundi. No, he said, not yet. Really?

Update: later on October 20 it was announced that the UN's Jeff Feltman will briefing the Security Council behind closed doors on October 21. But what outcome with the Council's penholder, France, even ask for?

On October 16 Inner City Press asked Haq if the UN thinks the government can investigate itself. This was based on UN Secretary General Ban Ki-moon's October 15 statement that

"The Secretary-General condemns the killing of nine civilians and two police officers in Bujumbura on 13 October... He urges Burundian authorities to undertake a rigorous and prompt investigation into the circumstances and motives behind these despicable crimes in order to ensure that their perpetrators are brought to justice."

So can the Nkurunziza government investigate itself (as the UN purports to be investigating or "auditing" itself in the wake of corruption revelation about former Presidnet of the General Assembly John Ashe among others)? Inner City Press asked this question (video here) as well as following up on this, from October 13:

Inner City Press: the Burundi question is one that maybe you can check with DPKO [Department of Peacekeeping Operations]. Burundian human rights activists say that an officer, Jerome Ntibogora, N-t-i-b-o-g-o-r-a, who was accused of being involved in killing people in a… in a hospital after they fled from the Government, has now been deployed to MINUSMA [United Nations Multidimensional Integrated Stabilization Mission] in Mali. So I wanted to…

Spokesman Dujarric: Let's see what we can find out.

Dujarric did not come back with an answer, by this deputy when Inner City Pres asked again on October 16 said he, Ntibogora is not being deployed. We'll see - watch this site.

Amid crackdowns in Burundi by security forces, and allegations of sexual abuse by Burundian peacekeepers serving under the UN flag, UN Peacekeeping chief Herve Ladsous on October 1 held a meeting with Burundian Vice President Joseph Butore.

Inner City Press has already tweeted a photograph of the meeting, but has now received the complete UN read-out, which raises more questions about Ladsous.

On the crackdown, Ladsous assured Butore that he has a "pragmatic approach" and is of no mind to question what happens in any country, does not involve himself in "domestic affairs."

On the sexual abuse allegations, Ladsous spoke only in platitudes, without requiring or even inquiring into any actions taken by the Burundians on the alleged abuse.

Even though Burundi was already given a "grace period" to bring appropriate equipment into the Central African Republic for the MINUSCA mission, they have not done so. In the meeting, according to the read-out, Butore "acknowledged" the substandard equipment.

Butore requested, and Ladsous for now granted, yet another extension to bring the requirement equipment -- until March 2016 for light equipment, and to June 2016 for heavy equipment.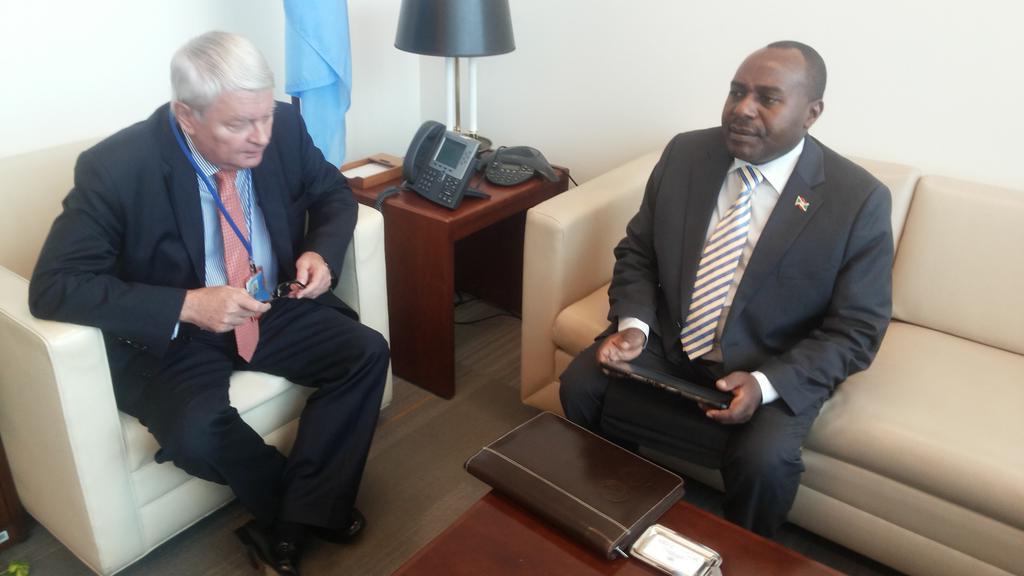 Is this safe - even for the Burundian soldiers at issue? While speaking through press releases, Ladsous' spokespeople, far from answering questions, go so far as to direct UNTV boom microphone operators to avoid Inner City Press, even preventing the Press from asking any questions to Mali's Foreign Minister Abdulaye Diop. We'll have more on all this.

* * *
These reports are usually also available through Google News and on Lexis-Nexis.
Click here for Sept 26, 2011 New Yorker on Inner City Press at UN

Click for BloggingHeads.tv re Libya, Sri Lanka, UN Corruption

Feedback: Editorial [at] innercitypress.com
UN Office: S-303, UN, NY 10017 USA

Reporter's mobile (and weekends): 718-716-3540
Other, earlier Inner City Press are listed here, and some are available in the ProQuest service, and now on Lexis-Nexis.
Copyright 2006-2015 Inner City Press, Inc. To request reprint or other permission, e-contact Editorial [at] innercitypress.com