ICP Questions UN Deployment of Burundi Major Niyonzima & Rusheshe, Ladsous

By Matthew Russell Lee, Exclusive series

UNITED NATIONS, December 21 -- Amid killings by the security forces in Burundi, the Pierre Nkurunziza government with the agreement of UN Peacekeeping chief Herve Ladsous has undertaken to deploy officers allegedly involved in human rights abuses into Ladsous' Central African Republic mission, MINUSCA.

On December 17 Inner City Press was told, the third time it asked, that the Burundi's Army spokesman Gaspard Baratuza's deployment to the UN mission in CAR had been suspended, and Baratuza was being repatriated. UN spokesman Stephane Dujarric, who has shielded Secretary General Ban Ki-moon from such Press questions, said "it's an example of the [vetting] policy working."

But Inner City Press has obtained the Burundi government document for the deployment not only of Baratuza but other officers in Ladsous' MINUSCA. Today we focus and ask about Major Pierre Niyonzima.

According to Inner City Press' sources, Niyonzima not only defended extrajudicial executions, he participated in them. On May 14, they say, Major Niyonzima was the Senior army officer who led the attack on the hospital where those accused of involvement in the attempted coup were slaughtered. They say Niyonzima reports to Guillaume Bunyoni and has been involved in killings in Musaga, Nyakabiga and Mutakura. We'll have more on this, and on other deployees to Ladsous' MINUSCA, including Jimmy Rusheshe.



Obtained by Inner City Press

Ladsous' lack of vetting was criticized in the recently released report into the cover up of peacekeepers' rapes in the Central African Republic. Earlier, Inner City Press exclusive reported on Ladsous in his October 1, 2015 meeting with Burundi's vice president saying that he is "pragmatic" on human rights.

On December 16 Inner City Press was banned from questions to Secretary General Ban Ki-moon, but learned from the mission MINUSCA that Baratuza was already in Entebbe. Inner City Press asked several Security Council members, then Ban's spokesman Stephane Dujarric on December17.

Dujarric told Inner City Press Baratuza's deployment is suspended and he is being repatriated: "based on the information we've received regarding the Lieutenant Colonel, his deployment has been suspended, and he will be repatriated back to Burundi." Video here. Dujarric told Inner City Press this shows the UN system working - on a day when a report on rapes was issued showing UN Peacekeeping under Herve Ladsous not sufficiently vetting for human rights. We'll have more on this.



Amid the escalating killings in Burundi, last weekend's summary executions in neighborhoods opposed to Pierre Nkurunziza's third term stand out. But Burundi Army spokesman Gaspard Baratuza was quoted on December 12 blaming all of the deaths on attempts to steal weapons to free prisoners.

Inner City Press had heard that Mr. Baratuza was already in the process of being deployed to the UN Peacekeeping mission in the Central African Republic (MINUSCA) even when he was giving these quotes, issuing statements and speaking to state-owned radio, and so asked MINUSCA's acting spokesperson, "Is Gaspard Baratuza of Burundi's army getting a MINUSCA job?"

On December 16, hours before UN Secretary General Ban Ki-moon held a rare press conference, MINUSCA's acting spokesperson sent this to Inner City Press:

"To: Matthew.Lee [at] InnerCityPress.com
From: Vladimir MONTEIRO [at] UN.org
Date: Wed, Dec 16, 2015
Subject: ICP question: Gaspard Baratuza of Burundi's army getting a MINUSCA-related post?
Cc: FUNCA [at] funca.info

"No decision related to Lt Col Baratuza's deployment can be taken before we finish looking into the matter. We can confirm that Lt Col Baratuza is in Entebbe but he has not yet deployed to MINUSCA. Regards. VNM"

There are some questions about Baratuza, a Colonel in Burundi's Army, being listed by the UN as "Lt. Col."

Despite multiple follow-up questions by Inner City Press, Mr. Monteiro - previously a spokesperson for the UN electoral mission in Burundi - replied that "This is what we can say about this issue."

But the UN should have to say more. Inner City Press has repeatedly asked the UN how its Department of Peacekeeping Operations under Herve Ladsous vets those who deploy to UN missions; Inner City Press exclusively reported on an October 1, 2015 meeting in which Ladsous told Burundi's Vice President Joseph Butare that he is "pragmatic" on human rights.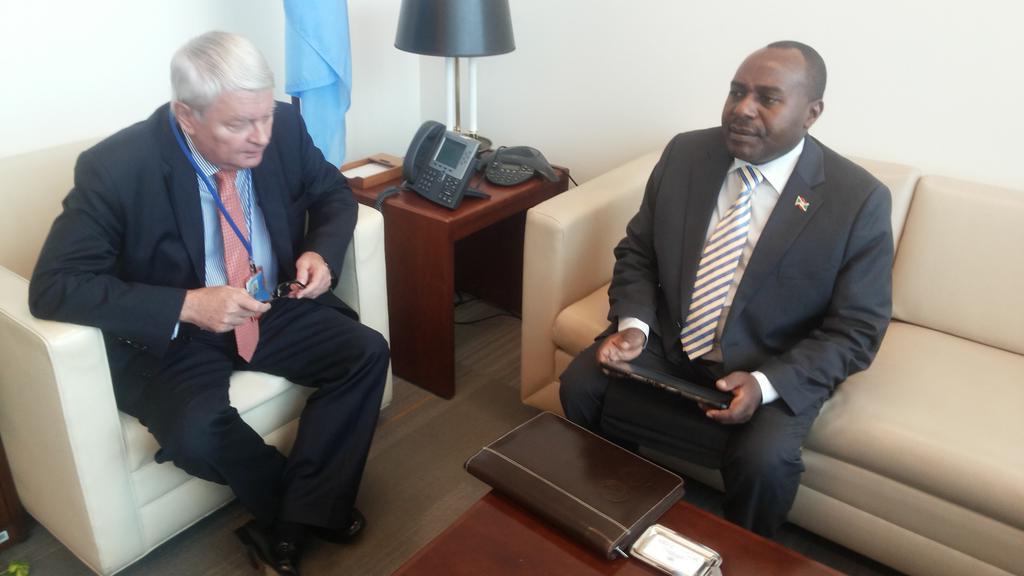 Ban Ki-moon and his spokesman declined to take Inner City Press' questions on December 16, as they did on December 14. Vine here. But concerned members of the UN Security Council have now been asked about Baratuza by Inner City Press. Watch this site.

* * *
These reports are usually also available through Google News and on Lexis-Nexis.
Click here for Sept 26, 2011 New Yorker on Inner City Press at UN

Click for BloggingHeads.tv re Libya, Sri Lanka, UN Corruption

Feedback: Editorial [at] innercitypress.com
UN Office: S-303, UN, NY 10017 USA

Reporter's mobile (and weekends): 718-716-3540
Other, earlier Inner City Press are listed here, and some are available in the ProQuest service, and now on Lexis-Nexis.
Copyright 2006-2015 Inner City Press, Inc. To request reprint or other permission, e-contact Editorial [at] innercitypress.com