On Burundi, ICP Asks US Samantha Power of Troops from MONUSCO, Burundians in CAR

By Matthew Russell Lee

UNITED NATIONS, November 12 -- After the belated Burundi resolution of the UN Security Council was unanimously adopted on November 12, Inner City Press asked US Ambassador Samantha Power about the specifics of how UN Peacekeepers from the Democratic Republic of Congo might be able to protect civilians in Burundi, video here.

Inner City Press also asked Power about the Burundian forces serving in the UN Mission in the Central African Republic: not only if some of them may have been involved in the human rights abuses in Burundi but also why DPKO chief Herve Ladsous granted them a waiver to continue in CAR without the right equipment, about which Inner City Press has also asked the UN, see below.


From the US transcript:

Inner City Press: There was some reporting yesterday about the possibility of peacekeepers from MONUSCO, if needed, going in. And I wanted to know what steps would that require? And also, there's some discussion – Burundi has UN peacekeepers and police in CAR and I've seen a document that says that they are not appropriately equipped, they've been given waivers and extensions to continue serving in CAR. I wanted to, I guess, know from you what connection should there be if some of these troops were either engaged in abuses back in Bujumbura, or in terms of actually giving them waivers? Is this a leverage that the UN has to try to get better performance in Bujumbura?

Ambassador Power: I'm not going to comment on the specific Burundi-CAR connection, because I actually haven't seen the specific report, so let me take it up a level. Troops and police that deploy in UN missions have to be vetted. And certainly when we have information that troops or officers are implicated in human rights abuses, that is something that we as a member state share – as a matter of course – with the department of peacekeeping, and we encourage other countries to do the same.

I think you've seen in recent months how training for Burundian peacekeepers, whether on the military or the police side, has been dialed back quite considerably by a number of countries, including the United States. And that's unfortunate, frankly, insofar as all of us have an interest in Burundian peacekeepers, police and military performing well and operating professionally in other countries around the world. But there also has had to be a response to the events on the ground and to the steps that the Burundian government has taken that have contributed to this deterioration. But again, when troops or police are involved in abuse, they should not be serving in peacekeeping missions; they should be held accountable by the UN and then of course in the home country.

On the MONUSCO question, given the divisive rhetoric, given the history in this country, given the number of people who've been killed up to this point and the vast numbers who are living in fear or fleeing to neighboring countries, we have an obligation to do contingency planning of all kind. And the fact that you have a mission nearby means that, of course given how slow UN deployments can be and how long it takes to move people from their home country into a country that is experiencing violence, a scenario in which one looks at MONUSCO is one that has to be examined. And I think, again, this resolution is important because it empowers the UN to look at various scenarios and various contingencies.

To be clear, MONUSCO is a separate mission, those troops have their work cut out for them where they are; there has been a rise in militia violence, as you know, cooperation between the Congolese government and MONUSCO has not been what it should be. And for MONUSCO to move to another country, you might remember from South Sudan when we did inter-mission cooperation, it requires a Security Council resolution to move that forward. It also requires troop-contributing countries to be willing to deploy in a very difference set of circumstances. So that's a complicated piece of business, and I want to stress, our goal is not to have to get to that point. But our primary objective, of course, is to ensure that Burundi does not descend into mass violence.

And so that's why looking at contingencies, grappling with the complexity of that option or any one of a number of options – and you know the East African Standby Force is doing contingency planning, again from our contacts at the AU – they are doing contingency planning. So we're starting to see the regional and international machinery kind of kick in and it's important because if something descended very quickly, we all know from past experience that the startup costs for actually responding to mass violence can be substantial. And so again our goal is, through diplomacy and through a political solution – a political track – never to have to get to any of these contingencies

Video here. As to the waivers or extensions Herve Ladsous has granted to Burundi - some of whose soliders and police complain of not being paid, that the government has been keeping the money - Inner City Press reported exclusively on this last month.

On October 1, 2015, UN Peacekeeping chief Herve Ladsous on October 1 held a meeting with Burundian Vice President Joseph Butore.

Inner City Press has already tweeted a photograph of the meeting, but has now received the complete UN read-out, which raises more questions about Ladsous.

On the crackdown, Ladsous assured Butore that he has a "pragmatic approach" and is of no mind to question what happens in any country, does not involve himself in "domestic affairs."

On the sexual abuse allegations, Ladsous spoke only in platitudes, without requiring or even inquiring into any actions taken by the Burundians on the alleged abuse.

Even though Burundi was already given a "grace period" to bring appropriate equipment into the Central African Republic for the MINUSCA mission, they have not done so. In the meeting, according to the read-out, Butore "acknowledged" the substandard equipment.

Butore requested, and Ladsous for now granted, yet another extension to bring the requirement equipment -- until March 2016 for light equipment, and to June 2016 for heavy equipment.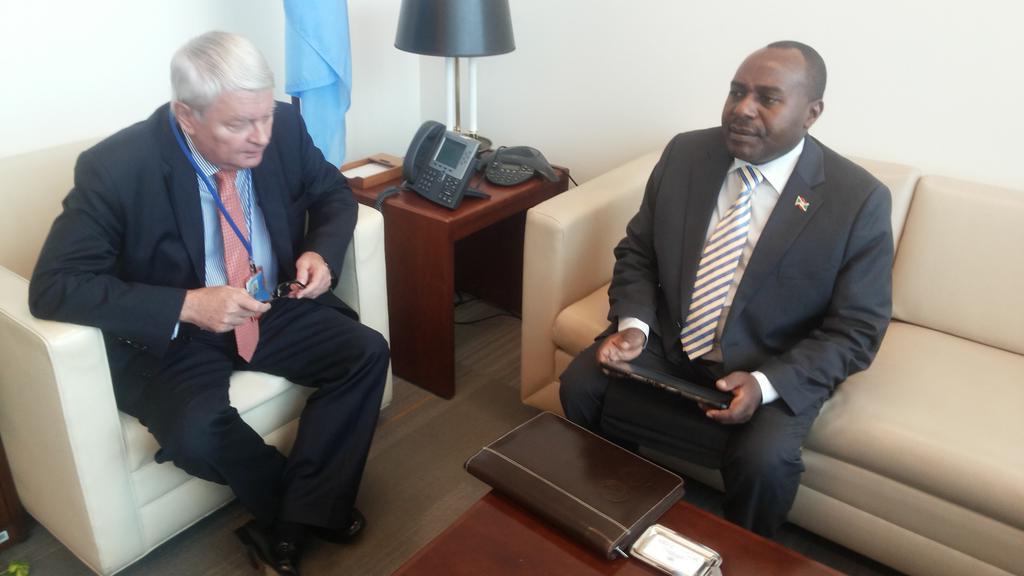 Is this safe - even for the Burundian soldiers at issue? While speaking through press releases, Ladsous' spokespeople, far from answering questions, go so far as to direct UNTV boom microphone operators to avoid Inner City Press, even preventing the Press from asking any questions to Mali's Foreign Minister Abdulaye Diop. We'll have more on all this.

* * *
These reports are usually also available through Google News and on Lexis-Nexis.
Click here for Sept 26, 2011 New Yorker on Inner City Press at UN

Click for BloggingHeads.tv re Libya, Sri Lanka, UN Corruption

Feedback: Editorial [at] innercitypress.com
UN Office: S-303, UN, NY 10017 USA

Reporter's mobile (and weekends): 718-716-3540
Other, earlier Inner City Press are listed here, and some are available in the ProQuest service, and now on Lexis-Nexis.
Copyright 2006-2015 Inner City Press, Inc. To request reprint or other permission, e-contact Editorial [at] innercitypress.com