To Burundi, UNSC Penholder France Sends Only Deputy, "Permanent" Scribes Barely Report

By Matthew Russell Lee

UNITED NATIONS, January 20 -- After UN Secretary General Ban Ki-moon's mere a one-line mention of Burundi in his long Priorities for 2016 speech on January 14, when Ban took questions in front of the General Assembly Inner City Press five times began, "On Burundi." Inner City Press similarly requested to cover the UNSC's trip to Burundi. Both were rejected.

On January 19, Inner City Press asked French Permanent Representative Francois Delattre about UN Peacekeeping, led by its fourth Frenchman in a row in the person of Herve Ladsous, using Burundian troops in its mission in Central African Republic. Video here.

Delattre replied that it is a fair question, but that he would have to get back to Inner City Press with an answer. But by the next day, he had not. He is not even going on the trip, instead sending his deputy Alexis Lamek, Vine here.

Inner City Press asked the UN which media were being handpicked to "report" on the Burundi trip, how and by whom, but the UN Spokesman refused to say. Now the attendee list has emerged, with three (or four, depending on how one counts) media.

Agence France Presse, selected to go, has at the UN tried to censor critical coverage of Herve Ladsous, the fourth Frenchman in a row in charge of UN Peacekeeping and his history during the 1994 Rwanda genocide.

The UN correspondent of Voice of America, as of January 20, had not written a single piece about Burundi in 2016 (but had sought to get Inner City Press thrown out of the UN, document obtained under FOIA here.)

The Reuters scribe, whose bureau chief also engaged in censorship, attended but did not at least for two days report on the UN Special Adviser briefing the UN served up on January 18.

These are the same three media handpicked for previous Security Council trips, picked as one well-placed source told Inner City Press to represent the "P3."

So while the majority of states in the UN push for reform of the archaic Security Council, an even more indefensible "P3" of media has been allowed to coagulate during this era. It must end. It must be reformed.

The reform will not come from the old UN Correspondents Association, which not only participates in censorship and sold seats next to Ban Ki-moon at Cipriani on Wall Street -- the AFP scribe is an officer of UNCA, now the UN Corruption Association, and Reuters has a permanent seat. The bare minimum that should be expected of a correspondents' association would be to ask for transparency in such a process. But UNCA's big wigs benefit from the lack of transparency, and so say nothing, mis-serving even most other media at the UN. The head of UNCA Giampaolo Pioli is a dandy landlord (including for example to Sri Lanka's ambassador) who has yet to ask a single question about Burundi.

So UNCA does not fight; the new Free UN Coalition for Access, founded by two UNCA board members who quit in disgust at the corruption, will.

The next days in and on Burundi will be test, with the plight of the Burundian people impacted also by these decisions without transparency or accountability. This must end and be reformed; it must and will be exposed.

On January 18, while the UN had promised a "background" briefing on Burundi at 2:30 pm, no video is possible of the 2:30 background briefing on Burundi. The session began with the statement that quotes could only be used if they were approved afterward. (During the "background" briefing, Inner City Press for the Free UN Coalition for Access asked if the speaker could just be referred to a Senior UN Official and dispense with the pre-approval to use what was already said.)

Inner City Press' questions were about the UN's continued used of Burundian troops as peacekeepers, and paying the Nkurunziza government for that. And now, approved by envoy Jamal Benomar, these answers to Inner City Press:

UN Envoy Benomar to Inner City Press: "On the issue of the troops, there are various perspectives. There are those who are calling for these troops to be sent back, because they think government is not cooperating on a number of issues. There are other views, people who say sending back these troops would be a destabilizing factor for a situation that is already very complicated."

"We have Burundians deployed in the Central African Republic and other places. And for that there is a protocol in terms of how they are going to be deployed and what criteria they have to meet, including compliance with our human rights policy."

They are appreciated; Inner City Press has asked for "clearance" of additional quotes. We'll have more on this.

Back on January 14 of the five questions picked for Ban Ki-moon, fully four were on Syria; none on Yemen much less Burundi. So as Ban began walking away from his personal rostrum, Inner City Press asked him how his Under Secretary General Herve Ladsous could have written, here, that UN Peacekeeping is limited in its ability to address significant violence against civilians, even violence that amounts to genocide.

The question was clearly audible, but Ban did not answer it, typically. Vine here. Moments later, Inner City Press got an answer about Ladsous' memo from an Ambassador of a Permanent Five member of the Security Council. Video here. UK Deputy Ambassador Peter Wilson said the goal of the UNSC trip to to have a proper talk with Nkurunziza, for a proper dialogue and change of course. New Zealand's lead ambassador is also going -- but Inner City Press is not.

Earlier in the week when the decision was made for the Security Council trip, Inner City Press immediately replied to Ban's spokesperson's office that it was very interesting in going, as it previously covered Ban's trip to Sri Lanka and Council trips to Sudan, DR Congo and Cote d'Ivoire.

At 3 pm on January 14, Reuters' correspondent bragged at the UNSC stakeout they are going. And at 4:30 pm, Inner City Press got this, from Ban's spokesman:

"Due to space limitation in the UN flight accompanying the Security Council mission to Burundi, we regret to inform you that we will not be able to accommodate your request to travel. "

So how / by whom is it decided which media can go? Inner City Press asked the UN Spokesman, Stephane Dujarrice, and another, this:

"Please describe how / by whom the decision on which media can accompany this trip was made, and which media have been allowed to go. Also, please explain why not one of the six questions Inner City Press submitted on January 12 and 13, including about Burundi, were answered, or even acknowledged."

And these are not answered. Dujarric's office called "lid" to end the day. So on January 15, Inner City Press asked Dujarric in person, video here, transcript here:

Inner City Press: ...Zeid's findings. How does this impact on the deployment of Burundian troops to UN peacekeeping in CAR? And I wanted to ask you about the trip the Council is taking next week. Can you describe how, by who… who and how the decision was made of which media can cover the trip?

Spokesman Dujarric: Sure. The numbers of seats attributed to media was very limited. A discussion was had with us, and a number… Security Council members, and a list was drawn up. Not every journalist can go on every trip. I think if you're talking about yourself, you have traveled with the Secretary-General before. As I said, not everyone can go on every trip.

Inner City Press: Journalists were supposed to cover their own costs. So what does the UN plane… is from where to where when you say there's a limited seats?

Spokesman: There's a UN plane from Addis Ababa to, from Addis Ababa to Bujumbura and back to Addis with very limited numbers, which is also limiting the numbers of staff members who can accompany. We wanted to send somebody to help mind the press. We were not able to — we were not able to either. [cross talk] If you make your own way to Bujumbura, we would be happy to assist you on the ground.

We'll have more on this.

On January 6 UN Peacekeeping chief Herve Ladsous wrote to the UN Security Council how his Department couldn't or wouldn't stop genocide, if it were to progress, in Burundi. VICE and RFI have written on it; Inner City Press is putting the entire Ladsous document online here. We'll have more on this.

On January 11, Inner City Press asked UN Spokesman Stephane Dujarric about the killing over the weekend of cameraman Alfred Baranburiya, and what the UN Office of the High Commissioner for Human Rights staff in Burundi are doing. There was no update.

Nor on Inner City Press' question about Burundian troops in AMISOM in Somalia not getting correctly paid and, it's said, being ordered not to use the Internet. Dujarric called this too "granular" to answer.

Burundian civil society has written to Ban seeking the repatriation of the country's peacekeepers. Inner City Press has put the letter from Vital Nshimirimana to Ban online here, and will be asking the UN about it. Watch this site.

On January 4, Inner City Press asked Ban's spokesman Stephane Dujarric about the threats to peacekeepers, the challenged deployments to the UN mission in the Central African Republic and reports of rapes largely in opposition neighborhoods.

The UN Spokesman had no comment on the rapes, or the threats; he said "I've mentioned the case of the Lt. Colonel, I have no further update from that, or on the other two officials you've mentioned.... The Secretary General's Special Adviser is in New York and I believe you'll probably hear from the Security Council President that they will hear from him at some point in the coming days."

On January 7, with the UN still not having responded on the rapes, Inner City Press for the Free UN Coalition for Access asked Dujarric about a Burundian minister's threat against the RFI journalist who compiled the rape report. The minister said, "the authorized government services will take the necessary measures to deal with this journalist's disruptive activities."

Inner City Press read this quote to the UN spokesman, who replied the UN is against intimidation. He still had nothing on the rapes. Video here, transcript here.

Meanwhile whole parts of the UN system say little to nothing at all. Last week Inner City Press asked for the comment of Ban's Secretariat (UNlikely) or, specifically, UN Women on this cartoon in pro-government media. Nothing. Total silence.

RFI reports in detail on rapes in Burundi, particularly in "opposition neighborhoods." While government spokespeople -- and wannabe government spokespeople -- attack the messengers, where is UN Women on this?

Amid criticism that Burundi's Pierre Nkurunziza seeks only to negotiate with himself and not the real opposition to his third term, and of the mediation process as a mere photo-op as the UN deploys abusers into its peacekeeping missions, Inner City Press on December 28, 29, 30 and 31 asked the UN questions. See below for (non) answers.

After refusing to comment or even respond to Press questions about Nkurunziza's threats against peacekeepers and deployment of alleged human rights abusers to UN Peacekeeping missions under Herve Ladsous, who also refuses Press questions, after 4 pm on New Year's Eve Ban issued this.

Burundi's Pierre Nkurunziza government with the agreement of UN Peacekeeping chief Herve Ladsous has undertaken to deploy officers allegedly involved in human rights abuses into Ladsous' Central African Republic mission, MINUSCA, see below. Also below, civil society statement in advance of the talks in Kampala on December 28.

Nkurunziza's Imbonerakure militia was quoted by AP that "We would like to warn African Union troops that the majority of Burundians don't want them and they should not impose themselves on the people of Burundi." Here is a video of the ruling party demonstrations, on Facebook
- and now, a second video, on Twitter.

Also on Facebook (but not Twitter), Burundi's Permanent Representative to the UN Albert Shingiro -- who blocks Inner City Press from his Twitter feed -- tried to mock a protest by follow Burundians which Inner City Press covered on December 23, here. (Shingiro, like the presidential adviser and his alter-ego(s) liked to channel Bill Gates.) Some diplomacy: banning the Press from his statements, mocking rather than seeking to dialogue with his countrymen. To this has Burundi sunk.

Back on December 17 Inner City Press was told, the third time it asked, that the Burundi's Army spokesman Gaspard Baratuza's deployment to the UN mission in CAR had been suspended, and Baratuza was being repatriated. UN spokesman Stephane Dujarric, who has shielded Secretary General Ban Ki-moon from such Press questions, said "it's an example of the [vetting] policy working."

But Inner City Press has obtained the Burundi government document for the deployment not only of Baratuza but other officers in Ladsous' MINUSCA. Today we focus and ask about Major Pierre Niyonzima.

According to Inner City Press' sources, Niyonzima not only defended extrajudicial executions, he participated in them. On May 14, they say, Major Niyonzima was the Senior army officer who led the attack on the hospital where those accused of involvement in the attempted coup were slaughtered. They say Niyonzima reports to Guillaume Bunyoni and has been involved in killings in Musaga, Nyakabiga and Mutakura. We'll have more on this, and on other deployees to Ladsous' MINUSCA, including Jimmy Rusheshe.

On December 21 Inner City Press asked the UN's Deputy Spokesperson Farhan Haq about these deployments, and the Burundian government's rejection of the African Union's proposed deployment, video here, transcript here.



Obtained by Inner City Press

Ladsous' lack of vetting was criticized in the recently released report into the cover up of peacekeepers' rapes in the Central African Republic. Earlier, Inner City Press exclusive reported on Ladsous in his October 1, 2015 meeting with Burundi's vice president saying that he is "pragmatic" on human rights.

On December 16 Inner City Press was banned from questions to Secretary General Ban Ki-moon, but learned from the mission MINUSCA that Baratuza was already in Entebbe. Inner City Press asked several Security Council members, then Ban's spokesman Stephane Dujarric on December17.

Dujarric told Inner City Press Baratuza's deployment is suspended and he is being repatriated: "based on the information we've received regarding the Lieutenant Colonel, his deployment has been suspended, and he will be repatriated back to Burundi." Video here. Dujarric told Inner City Press this shows the UN system working - on a day when a report on rapes was issued showing UN Peacekeeping under Herve Ladsous not sufficiently vetting for human rights. We'll have more on this.



Amid the escalating killings in Burundi, last weekend's summary executions in neighborhoods opposed to Pierre Nkurunziza's third term stand out. But Burundi Army spokesman Gaspard Baratuza was quoted on December 12 blaming all of the deaths on attempts to steal weapons to free prisoners.

Inner City Press had heard that Mr. Baratuza was already in the process of being deployed to the UN Peacekeeping mission in the Central African Republic (MINUSCA) even when he was giving these quotes, issuing statements and speaking to state-owned radio, and so asked MINUSCA's acting spokesperson, "Is Gaspard Baratuza of Burundi's army getting a MINUSCA job?"

On December 16, hours before UN Secretary General Ban Ki-moon held a rare press conference, MINUSCA's acting spokesperson sent this to Inner City Press:

"To: Matthew.Lee [at] InnerCityPress.com
From: Vladimir MONTEIRO [at] UN.org
Date: Wed, Dec 16, 2015
Subject: ICP question: Gaspard Baratuza of Burundi's army getting a MINUSCA-related post?
Cc: FUNCA [at] funca.info

"No decision related to Lt Col Baratuza's deployment can be taken before we finish looking into the matter. We can confirm that Lt Col Baratuza is in Entebbe but he has not yet deployed to MINUSCA. Regards. VNM"

There are some questions about Baratuza, a Colonel in Burundi's Army, being listed by the UN as "Lt. Col."

Despite multiple follow-up questions by Inner City Press, Mr. Monteiro - previously a spokesperson for the UN electoral mission in Burundi - replied that "This is what we can say about this issue."

But the UN should have to say more. Inner City Press has repeatedly asked the UN how its Department of Peacekeeping Operations under Herve Ladsous vets those who deploy to UN missions; Inner City Press exclusively reported on an October 1, 2015 meeting in which Ladsous told Burundi's Vice President Joseph Butare that he is "pragmatic" on human rights.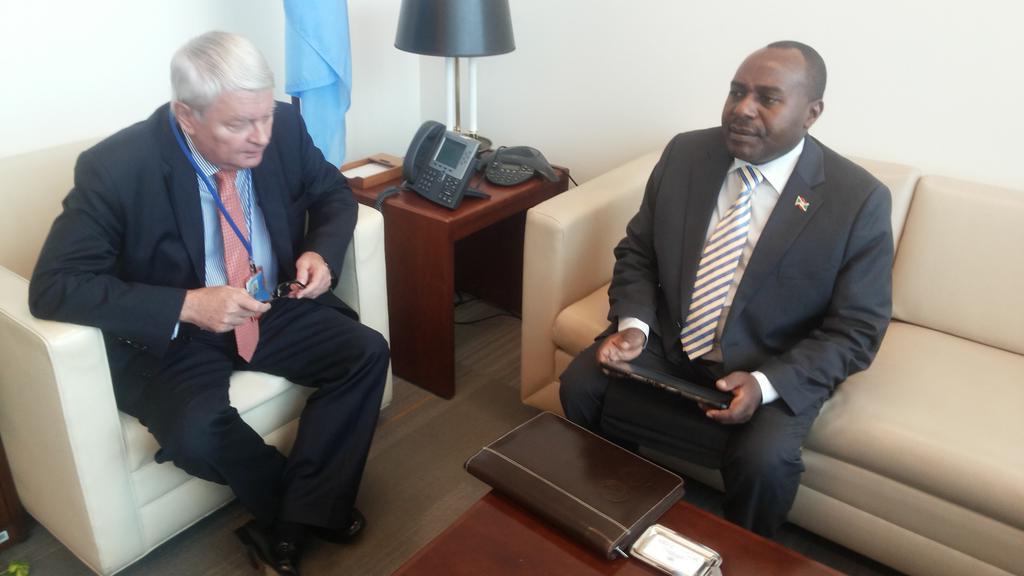 Ban Ki-moon and his spokesman declined to take Inner City Press' questions on December 16, as they did on December 14. Vine here. But concerned members of the UN Security Council have now been asked about Baratuza by Inner City Press. Watch this site.

* * *
These reports are usually also available through Google News and on Lexis-Nexis.
Click here for Sept 26, 2011 New Yorker on Inner City Press at UN

Click for BloggingHeads.tv re Libya, Sri Lanka, UN Corruption

Feedback: Editorial [at] innercitypress.com
UN Office: S-303, UN, NY 10017 USA

Reporter's mobile (and weekends): 718-716-3540
Other, earlier Inner City Press are listed here, and some are available in the ProQuest service, and now on Lexis-Nexis.
Copyright 2006-2016 Inner City Press, Inc. To request reprint or other permission, e-contact Editorial [at] innercitypress.com