After Turkey Downs Jet, Sends Letter to UNSC, Full Text Here

By Matthew Russell Lee
UNITED NATIONS, November 24 -- After Turkey down a Russian jet, it wrote a letter to the Security Council on November 24 but did not ask for a Council meeting. Inner City Press is putting Turkey's letter online here.

The President of the Council for November, the UK's Matthew Rycroft, spoke on his way in at 10 am, Inner City Press Periscope video here. He said, as fast transcribed by InnerCityPro.com:

RYCROFT: We're extremely concerned about the incident of the Russian downed jet. We've been in close touch with our Turkish opposite numbers from the Prime Minister down. It's very important that we learn the lessons of this in terms of de-confliction. I call on everyone involved to de-escalate and to be measured in their response

Q: Have Russians or Turks contacted you about raising it in the Council?
A: We've been in touch with both of those countries and many others. Currently no country has called for a meeting of the SC.

Q: Can the Council do anything to tell the Russians to stop violating airspace of neighboring countries?
A: The UK defends Turkey's right to protect its own airspace. If we have a discussion I'm sure we won't be alone in making that point.

Q: No letter from Turkey?
A: There has been a letter from Turkey. It sets out the facts. It doesn't call for any particular action.
Q: When did you receive the letter
A: In the last hour.

Q: Do these events indicate that de-confliction goes against what you're trying to avoid?
A: These events demonstrate the importance of de-confliction, having a carefully coordinated coalition against ISIL. Stepping back from the detail for for the moment, we have a shared interest with all of the countries in the region. We are all trying our hardest to defeat ISIL.

Q: Does it complicate diplomacy?
A: Diplomacy is complicated at the best of times. It is a thing we need to respond to in a measured, calm, careful way.

Last week after France circulated in the UN Security Council the post-Paris Attacks resolution repeatedly talked about by French President Francois Hollande, it immediately on November 19 put it "in blue" for voting, which took place after some delay at 5:30 pm on November 20. The vote was 15-0.

Afterward, Inner City Press managed to ask French Ambassador Francois Delattre about the inclusion at Russia's request of a reference to the UN Charter, and if France thinks there is a right to individual self-defense, as already asserts in Syria, in the UN Charter. Delattre said the Charter is important and France complies with it. Video here.

Inner City Press asked UK Ambassador Matthew Rycroft, President of the Security Council for November, about the delay in voting on the resolution from 3pm to 4 pm to 5:30 pm -- he said that was negotiation -- and about the inclusion of a reference to Vienna I in the final version. Russia's Churkin in the Council said, "The preambular section, clarified by us, clearly states now that the documents adopted by the international support group for Syria on 30 October and 14 November are a packet on the basis of which, in addition to the Geneva communiqué of 2012, should be used to settle the Syrian crisis;" another Permanent Representative, not on the Council, told Inner City Press this "makes Assad a party."
Rycroft acknowledged that the reference had been added, but said he viewed this as listing all the relevant documents; he said the Geneva Communique is the most important. Video here. He highlighted that the resolution was passed only a week after the Paris attacks.

Earlier, Inner City Press awas told, not by France, of "and the UN Charter" being added to Operative Paragraph 5, thusly in capitals:

"5. Calls upon Member States that have the capacity to do so to take all necessary measures, in compliance with international law, in particular international human rights, refugee and humanitarian law, AND THE UN CHARTER, on the territory under the control of ISIL also known as Da'esh, in Syria and Iraq, to redouble and coordinate their efforts to prevent and suppress terrorist acts committed specifically by ISIL also known as Da'esh as well as ANF, and all other individuals, groups, undertakings, and entities associated with Al Qaeda, and other terrorist groups, as designated by the United Nations Security Council, and as may further be agreed by the ISSG and endorsed by the UN Security Council, pursuant the Vienna Communique of 14 November, and to eradicate the safe haven they have established over significant parts of Iraq and Syria." And here is the final: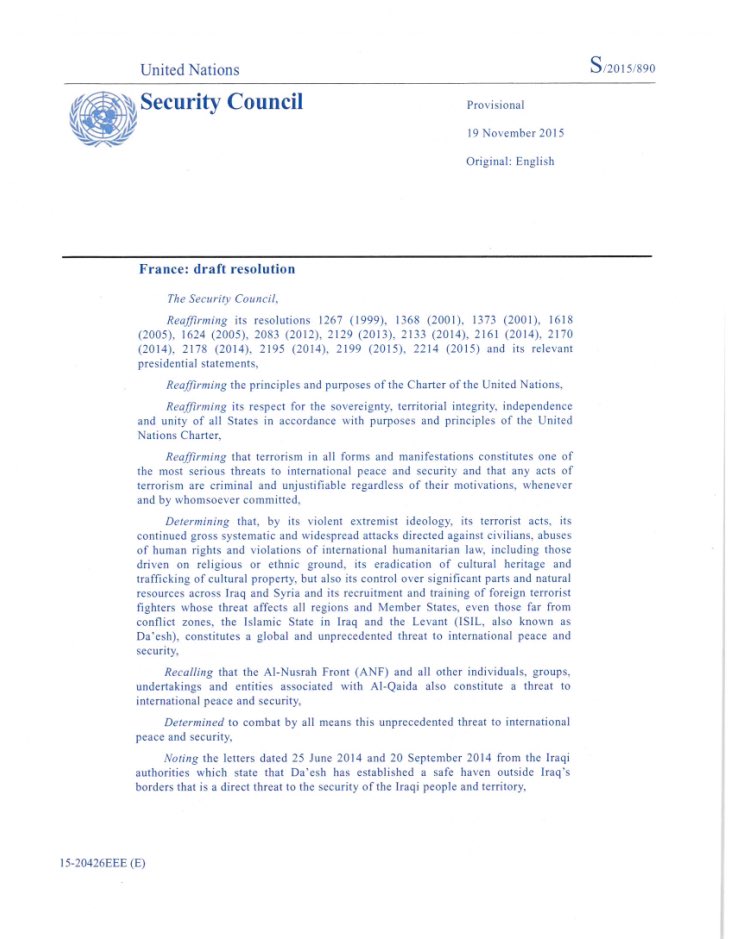 When 3 o'clock came, while UNTV was at the Security Council stakeout, there was no vote. Exiting the Council were the Permanent Representatives of Jordan, New Zealand and Spain, along with Staffan de Mistura and UN OCHA's Stephen O'Brien: an UNrelated humanitarian meeting.
Other diplomats milled around; there were complaints against the French mission. One said, I shouldn't be learning this from (your) Twitter. Inner City Press tweeted this "some angry diplomats mill around, one says, Shouldn't have to get info on this from Twitter, ou son les Francais?" The French Mission spokesman replied with a spelling correction and the time: ".@innercitypress it's actually spelled "où sont les Français", but nevermind. We are here : vote on French res ag Daesh scheduled at 5.30pm."

Inner City Press replied, "No cedille on my keyboard, but thanks for update - now, similar info on #Burundi? #Penholder " We'll see.

In the morning when French Ambassador Francois Delattre entered the Security Council for a regularly scheduled meeting about Peacekeeping Operations featuring Herve Ladsous, the fourth Frenchman in a row atop UN Peacekeeping, Delattre spoke about the French draft resolution. Periscope video here. As fast transcribed by InnerCityPro.com:
"We hope for a vote the sooner the better, I cannot tell you when exactly, but it is one week after the attacks... There is no reason frankly there is only good spirit and good vibes so to speak around the table... I am cautious by nature, the mood is really good.
"We try to have something that can unite everyone at the Security Council the Russians included. We think we should not waste time, we have a good partnership with Ambassador Churkin with all the other ambassadors... it's a question of the last mile, I will tell you more as soon as I know."
Inner City Press and others asked about Mali and the attack on the Radisson Hotel there. Delattre said, "We are closely watching the situation with great concern of course but no particular comment at this stage." No comment? Shouldn't a terrorist attack in sub-Saharan Africa be added to the French draft? Some say the vote might be as early at 1 pm.

Update: the French mission spokesperson doled this out later to favored correspondents Update II: UNTV says 3 pm:
"3:00pm LIVE Security Council 7564th meeting: Adoption: Resolution on counterterrorism"

Russian Ambassador Vitaly Churkin on Thursday afternoon told reporters he saw nothing "offensive in it," that a couple of days could have improved it but that perhaps both resolutions could be adopted,citing 9/11/01 as a precedent.

On his way into the Security Council's regularly scheduled meeting on Kosovo, Churkin stopped and told the press that "Theirs is much more narrow draft, ours is broader, more fundamental so basically I don't see much of a contradiction. We're studying it. I don't [see] anything particularly offensive. This is a good draft, we are looking at it. Maybe if they took a day or two more to work on it they could have improved a thing or two."
On if both draft resolutions could be adopted, Churkin said, "I think they could, because if you think back to events after 9/11, first there was a short draft then a couple of weeks later there was a more comprehensive draft."

The day before on November 18 after Russia circulated its resolution, French Permanent Representative Francois Delattre came out to talk to the media, not on UNTV but by the steps. He said, as fast transcribed by InnerCityPro:

"Russia requested this meeting on the issue of terrorism, and introduced once again this September 30th draft resolution... I repeated our total determination to fight Daesh, a fight which requires a united response from the whole international community. As you know French President Francois Hollande announced that the Security Council must adopt as soon as possible a resolution on the fight against Daesh. We are actively working to prepare a text that will be short, strong, and focused on the fight against our common enemy, Daesh. Short, strong, and focused on the fight against Daesh. And in this respect we consider the Russian proposal is a contribution that will be carefully studied.

"I think we have two different texts here. The text we have in mind, and that we are working on very closely, strongly, following President Hollande's statement, is a text that is strong, short, that is Daesh-centered, and that has one goal after the tragic Paris attack, which is to make sure that the international community is united, finally united, in the fight against Daesh. We all know the threat. The threat is still here. So this is our political responsibility asa the Security Council to have this text adopted, not for long, or endless negotiations about the niceties, but one, simple, clear political message. We need, and this is our responsibility, to have a text which all key actors of the international community can unite in order to act, and to act together."

Together?

" On November 17 UN Secretary General Ban Ki-moon's spokesman Stephane Dujarric announced that Ban would sign the condolence book at the French Mission to the UN that afternoon.

After 2 pm, the UN emailed out "*SG PHOTO-OP ADDED*" so Inner City Press went to the French Mission to cover it.
In the lobby of 245 East 47th Street, also known as One Dag, the security officer said he would call upstairs to French Mission, on the 44th floor, and get the OK. The guard handed the photo to Inner City Press, which explained why it was here, that the UN has announced this photo-op. The guard took the phone back. Video here.

"They say no," the guard said. France 24 was upstairs, and others who did not even report on it. Inner City Press waited in the lobby, exchanging pleasantries with a half dozen diplomats including the Permanent Representative of Palau; passers-by in the One Dag lobby included the Permanent Representative of a country France has criticized for, ironically, freedom of the press. Video here.

Ban Ki-moon and French Ambassador Francois Delattre came down, accompanied by Ban's spokesman Stephane Dujarric. The UN convoy pulled out onto Second Avenue. Later Dujarric's office would send out Ban's remarks -- Ban refused the only question asked -- and UNTV would distribute video of Ban and Mrs. Ban signing, even shots of the French hand-picked scribes in attendance. Would Charlie Hebdo have made the cut?

On November 18, Inner City Press asked UN Spokesman Dujarric:

Inner City Press: You announced yesterday at this signing of the condolence book at the French Mission by the Secretary-General. So I wanted to know, it seemed like I tried to go to your office. You weren't there. I went to MALU [Media Accreditation and Liaison Unit]. It seems like it's a UN thing, so I went to cover it, but I was unable to cover it when they called upstairs from the downstairs…

Spokesman Dujarric: If it's a UN thing, if it happens in the UN.

Inner City Press: Right. Is it the Secretary-General's position where space exists for his outside events that UN journalists should be able to cover it or not?

Spokesman: We rely on our hosts.